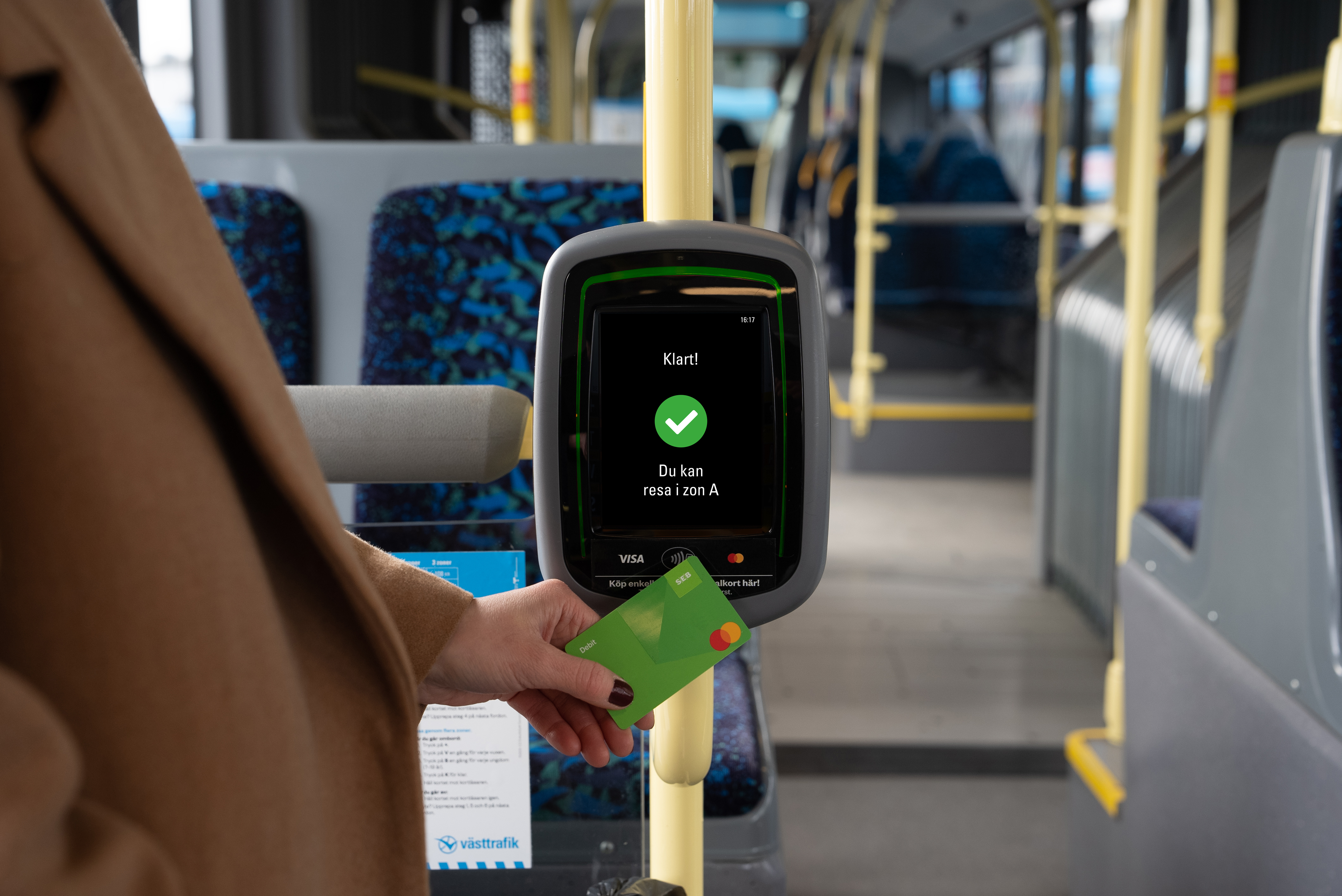 15 May 2023, Gothenburg, Sweden – Västtrafik, the transport authority in Gothenburg and western Sweden, is making travel easier and more convenient with the introduction of Tap and Go contactless payments. Starting from 9th May, customers can now use their debit or credit cards to travel on buses, trams and ferries in Zone A.
Powered by Vix Technology, the new system allows customers to simply tap their card on the card reader instead of having to enter a code. Contactless payments are also faster than traditional payment methods, eliminating queues and allowing passengers to board quickly and easily.
Vix was originally contracted by Västtrafik to deliver a closed-loop fare collection system in 2006. Implementing contactless EMV meant upgrading a total of 4,500 fare collection and validation devices in Zone A, covering 75% of the city's ridership.
"Because our system is modular, we were able to perform the necessary software and hardware upgrades of the existing infrastructure in a cost-effective way," said Martihn Sjöstedt, General Manager Nordics & Northern Europe. "We're delighted to support Västtrafik's goal of making travel effortless for all customers through a modern cEMV payments system."
Vix worked with partner Littlepay to deliver the upgrade.
Sarah McLaughlin, Business Development Manager at Littlepay, said: "We are thrilled to partner with Vix Technology in the upgrade of Västtrafik's contactless payment system. This collaboration highlights the significance of working with capable and professional partners to deliver seamless payment solutions that enhance the overall rider experience. Furthermore, it also underscores the importance of modularity, and the ability to leverage adaptable and scalable technologies to meet evolving customer needs effectively within transit."
Although Sweden is a largely cashless society, not many cities have upgraded to cEMV yet – Gothenburg is only the fourth to do so. The introduction of this new payment method is part of Västtrafik's goal to make sustainable travel the norm in Gothenburg, encouraging customers to use public transport instead of travelling by car.
The contactless payment system is currently available on all buses, trams and ferries operated by Västtrafik in Gothenburg in Zone A. The agency plans to expand Zone A later in the summer, meaning that customers will be able to pay using contactless across an even wider area in the neighborhood of Gothenburg.
About Vix Technology
Vix Technology is a global leader in automatic fare collection, transit information and transit analytics solutions. With innovative fare management, fleet management and passenger information systems, Vix has helped to make public transport more accessible and more cost effective for over 35 years. Vix has customers in 200 cities across the globe and is passionate about providing a better customer journey for passengers.
Contact
pr@vixtechnology.com