Vix Technology delivers an optimised mobile-first payment solution for rail travellers in Bangkok
29 June 2023, Bangkok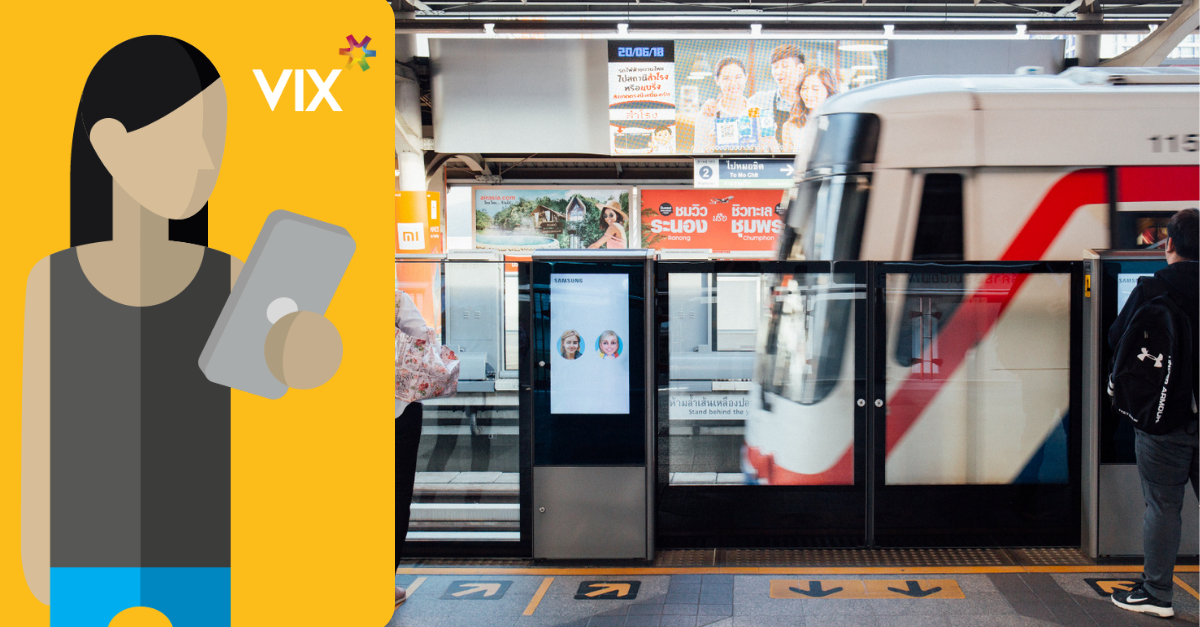 04 June 2023, Bangkok – Passengers travelling on Bangkok's BTS Skytrain Green Line and Mass Rapid Transit Authority (MRTA) Yellow Monorail Line can now enjoy faster, more seamless travel through an enhanced mobile-first Account-Based Ticketing (ABT) system – known as BTS LINE Pay – delivered by Vix Technology and partner Bangkok Payment Systems (BPS).
Complementing the existing Card-Based Ticketing system, Vix's ABT solution was first developed in conjunction with leading digital wallet and mobile payments provider Rabbit LINE Pay (RLP) and successfully implemented on Bangkok's BTS Skytrain Green line in 2018. In the last year alone, BTS LINE Pay has processed over 31 million trips across 47 stations, with zero downtime and no ongoing maintenance.
In order to offer Bangkok's riders a fully mobile solution, with fast performance at the gate and discounted intermodal travel across both the Green and Yellow lines, Vix worked with independent service providers Bangkok Mass Transit System (BTS) and Eastern Bangkok Metro (EBM) to upgrade and expand the solution across the two transit lines.
The enhanced system provides for intermodal discounts between Green and Yellow lines, as well as crossline travel when the new MRTA Pink Line opens in 2024. The expansion also implemented a refresh of the software, cloud and on-premises systems that will extend the life of BTS LINE Pay for another 5 years.
Passengers using their mobile wallet to pay for travel simply 'tap out' their Rabbit Card at the end of their journey, with processing times less than 50 milliseconds. As they walk away from the gate, they receive a push notification from the LINE Pay wallet app to their mobile with information about their journey.
Upgrades on the Green line involved migrating more than 50 million trips, including payment histories and other data from the old system to the new one. Transition of the Green Line data, along with implementation of the ABT solution on the Yellow line (23 stations), was completed on 4th June 2023.
Ongoing system updates can be deployed automatically in just 15 minutes, including all infrastructure and configuration, meaning the new system will be much easier to operate and maintain.
Ron Wail, Vix Engineering Manager, said: "Cashless payments are becoming more and more popular in Thailand and this new system delivers 50ms tap times and ~1 second payment processing, making it quick, easy and convenient for passengers in Bangkok to automatically get the best fares paying by mobile, while still maintaining station ticket office customer service for those who need it."
Mobile payments will soon be available on Bangkok's MRT Pink Line, operated by Northern Bangkok Metro (NBM), allowing riders to move seamlessly across an additional 34.5 kilometres (21.4 mi) of monorail line and 30 stations.
About Vix Technology
Vix Technology is a global leader in automatic fare collection, transit information and transit analytics solutions. With innovative fare management, fleet management and passenger information systems, Vix has helped to make public transport more accessible and more cost effective for over 35 years. Vix has customers in 200 cities across the globe and is passionate about providing a better customer journey for passengers.
Contact
pr@vixtechnology.com