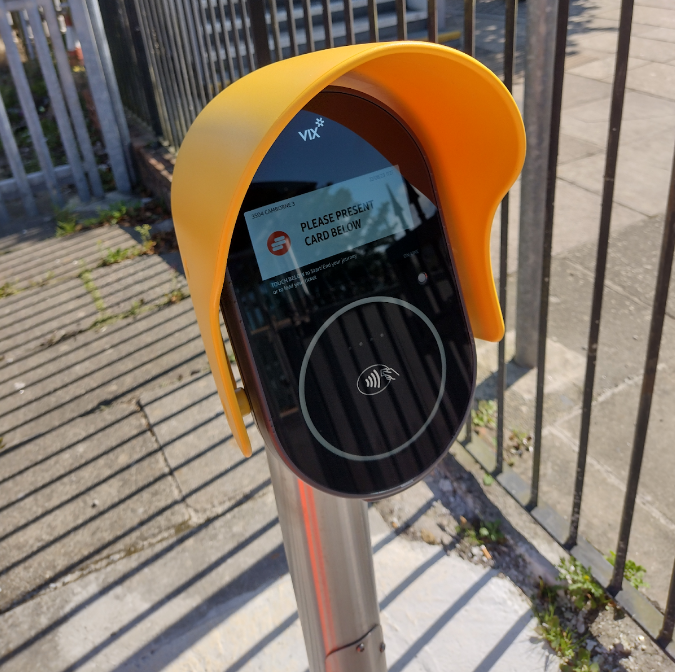 Cornwall, UK – Vix Technology is thrilled to announce the installations of our Assure device range in the UK, delivering rapid and secure validation for customers using Great Western Railway's new Cornwall pay-as-you-go smartcard.
As part of a phased rollout, Vix worked with GWR to install 20 Assure Rugged devices across 8 stations in August, including Camborne, St Ives, Par and Penzance.
A further 9 devices were installed in September across St Austell and Hayle stations, before the final 9 devices were delivered in Redruth and St Erth in October.
The Assure Rugged is designed to withstand the tough working environments encountered on public transportation networks, as well as resist any weather conditions the South West of England can throw at it.
Powered by Vix's back office Cast system, the devices are ITSO-compatible and can process QR barcode payments, making it easy for passengers to tap and get on with their journey.
Kris Buszek, Business Development Manager at Vix Technology, said, "I'm delighted to see our first-class validation devices operating in the field here in the UK. Passengers in Cornwall can enjoy quick and easy validation of their travel via a simple tap with these sturdy rugged devices placed at convenient points on the platform. 
We've worked closely with Great Western Railway to deliver a complete solution, including the back office, and we look forward to supporting GWR to make further upgrades across their network in Cornwall."
Dhawal Sawant, Interim Head of Retail, Great Western Railway, said: "We've worked very closely with Cornwall Council on the launch of our new pay-as-you-go scheme that provides customers the best value fares on the day of travel.
We were pleased to work with Vix Technology on the installation of their new Assure Rugged devices and are delighted that work was completed in time for the scheme's launch at Truro on the 15th November. Cornwall Council has already done so much to support modal shift and sustainable travel and we are proud to have worked with them on this next step, improving the ease and convenience of travel for our customers.
Great Western Railway looks forward to working together with Vix Technology in the future, continuing to enhance the travel experience for our customers".
About Vix Assure devices
Assure validators enable transit authorities to quickly confirm passengers' right to travel wherever is most convenient for them, by supporting a wide range of validation tokens such as smart cards, contactless EMV bank cards, NFC-equipped mobile devices, and QR codes.
About Vix Technology
Vix Technology is the global leader in intelligent transportation systems, automated fare collection, and transit analytics. With customers in 200 cities around the world, Vix embraces the complexities of modern public transit to create best-in-class solutions for transit agencies and operators. Vix is passionate about connecting people and communities, combining an open, collaborative mindset with cutting-edge technology to make public transport more accessible and more cost effective for all.  
About Great Western Railway
First Greater Western Limited, trading as "Great Western Railway" (GWR), operates trains across the Great Western franchise area, which includes South Wales, the West Country, the Cotswolds, across southern England and into London. GWR provides high speed, commuter, regional and branch line train services, and before the covid-19 pandemic helped over 100 million passengers reach their destinations every year. GWR has been awarded a National Rail Contract to continue operating the Great Western network, which shall run up to 21 June 2025, with the potential for a further three years at the Secretary of State's discretion. Find out more here: https://www.gwr.com/about-us
Contact
pr@vixtechnology.com