Vix Technology Partners with myBus to Offer Cloud-Native Fleet Management Solution
31 May 2023, Barcelona
31 May 2023, Barcelona, Spain – Vix Technology, a leading provider of intelligent transport solutions, has announced a partnership with myBus, a Barcelona-based transit SaaS provider, to bring its cloud-native passenger information and fleet management system to the UK and USA.
With the myBus solution, operators can manage their networks in real time, address any gaps in service, and provide passengers with up-to-date information on their journey. The suite of features includes cloud-based fleet management and automatic vehicle location (AVL), live rerouting, reporting, driver assistance, and passenger information.
"We are delighted to partner with myBus and expand this great product into new markets," said Sue Walnut, Product Director at Vix Technology. "We have a shared vision to empower passengers and operators to make public transport safer and smarter, and the combination of the myBus system with Vix's AI prediction tools and meaningful real-time insights means we can provide a very powerful offer for our customers in the US and UK."
Malte Metzing, CEO at myBus, added: "This is an exciting time for myBus to expand our reach and leverage the expertise at Vix to enhance our capabilities even further. We look forward to working closely together over the coming months to provide operators with the tools they need to create better travel experiences for passengers around the world."
myBus is a market leader in the Greater Barcelona area, with additional installations in Catalunya, Valencia, Madrid, Balearic Islands and Andorra. The two companies are looking forward to demonstrating the solution at the Vix stand at the UITP Global Public Transport Summit in Barcelona, from 4 to 7 June 2023.
Going to the UITP Summit? Book a demo at the Vix stand.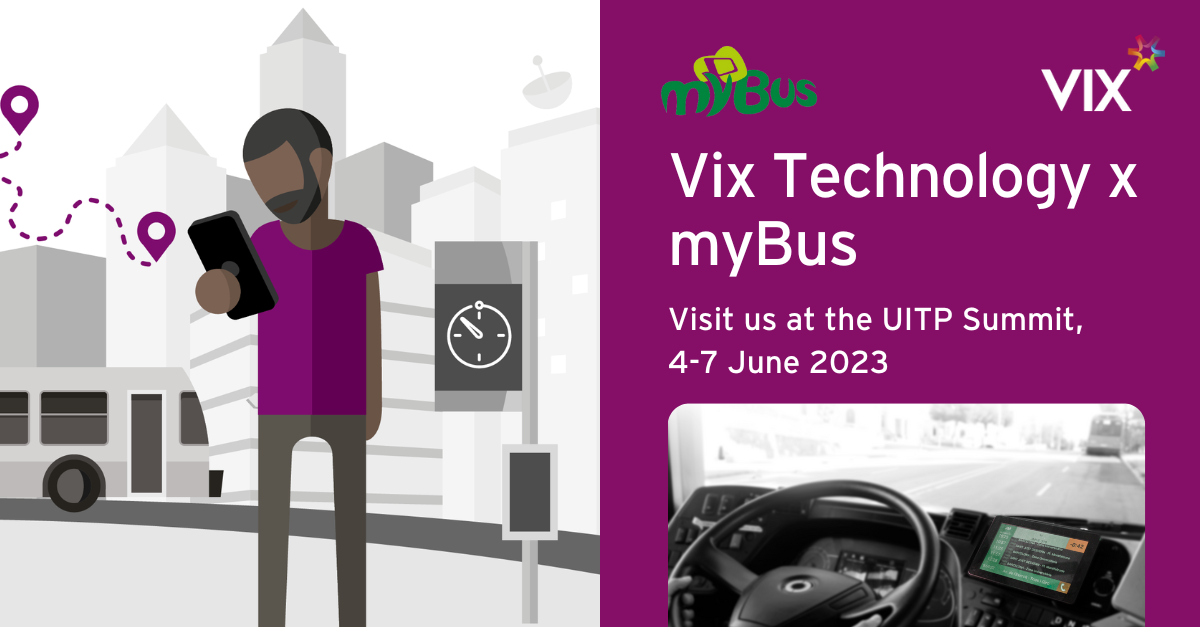 About Vix Technology
Vix Technology is a global leader in automatic fare collection, transit information and transit analytics solutions. With innovative fare management, fleet management and passenger information systems, Vix has helped to make public transport more accessible and more cost effective for over 35 years. Vix has customers in 200 cities across the globe and is passionate about providing a better customer journey for passengers.
About myBus
myBus offers a state-of-the-art fleet-management and passenger information system for Public Transportation and a cloud-based ticketing solution. We equip buses and trams with cutting edge standard hardware and connect them to our high performing cloud servers. Our turnkey solution (hardware + software) with open interfaces is based on modules, cost-effective thanks to transparent interfaces and easy to adapt and enhance. We change the rules of the business model for fleet management and passenger information in real time: Enhancing city halls to sustainably improve the image of public transport.
Contact
pr@vixtechnology.com