Improving Transit Equity in Northern Ireland
25 August 2022, UK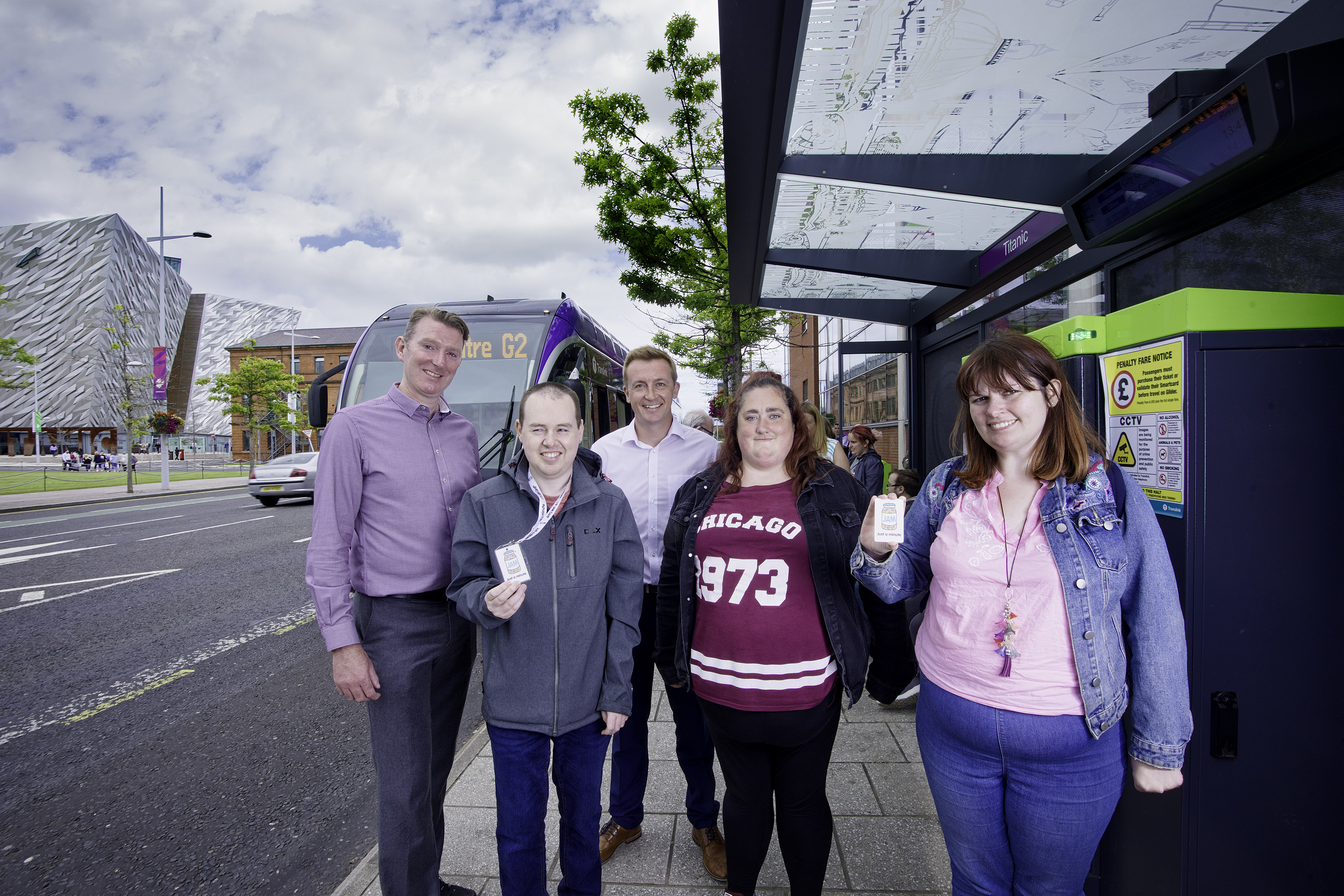 In August, Vix Technology worked with Translink, and charity NOW Group, to run a day of sessions supporting disabled passengers in Northern Ireland.
Vix Technology has been working with Translink for more than a decade, having delivered real time information systems across the region, including on-board and on-street passenger displays and vehicle monitoring systems.
The day event featured a number of activities and sessions designed to support passengers with a variety of disabilities, to help them become more comfortable with using the public transport network, including learning about the on-board accessibility features, and how to purchase tickets for their journey, as well as taking a trip on one of Translink's prestigious Gliders to the Titanic Museum. It was also a chance for Vix to learn more about how this group of passengers approach public transit, and learn from this to further improve the technology we offer.
The event received excellent feedback from the participants involved, whose measured confidence levels in using the bus networks increased by 50% as a result of the day.
Vix Technology's Matt Wilks, who organised the event, highlighted this figure as a great reflection of the success of the day: "I'm confident that the participants will continue to use this new found confidence and use the Translink bus network long into the future. Thank you to both NOW Group and Translink and especially all participants for making this event the overwhelming success that it was!"
Vix is committed to equitable transit, and working alongside our customers to ensure transit networks meet the needs of all passengers served. The time spent with this group of passengers in Belfast enables us to continue to improve our technology and services to meet those needs for years to come.
The NOW Group were delighted to have members from Translink and Vix Technology join us in the Hive for an engagement session with our participants. They thoroughly enjoyed their time on the Glider, learning about the on-board accessibility features and how to purchase tickets for their journey.

We hope from this session our participants will be able to build their confidence and awareness of the accessibility of Translink transport, especially with the support of the NOW Group JAM Card initiative.
We are delighted to work in partnership with Vix Technology to provide practical experience and support for members of NOW Group. We're committed to removing any barriers to using public transport and investing in enhanced real-time passenger information to improve the overall journey experience.

End-to-end accurate and accessible travel information is a vital part of a high-quality public transport network and key to attracting more passengers on board services. Every passenger should be able to travel with the confidence that they have boarded the correct service and are travelling to their intended destination.

We're continually investing in our network with real time passenger information and audio-visual next stop announcements currently live across Belfast (Metro, Glider). We're extending this feature to Urby and Goldliner services and plan to cover all Ulsterbus services over coming years as part of our Enhanced Passenger Information and Communication (EPIC) Project.

We'd like to thank NOW Group members for working in partnership with us and our contractor to provide valuable insight and recommendations that will ultimately ensure everyone is better connected and can enjoy a safe, comfortable and convenient journey experience.