Vix Employee Spotlight – Rob Cullingworth, Country Manager UK & I
23 March 2022, UK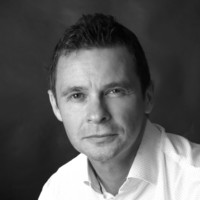 Next up in Vix's employee spotlight series is Rob Cullingworth, Country Manager for the UK and Ireland. While Rob's tenure with the organization may not be as long as others,' his contributions and passion for Vix's customers is truly transformational and inspiring.
Rob is a hard-working and passionate leader. Read on to learn more.
How long have you been with Vix?
I have just celebrated my 2-year anniversary with Vix. Time has passed very quickly.
What's the most unique part about working here?
The expertise and genuine passion in the people. Our industry is undergoing significant change, but many of the challenges we face are the same challenges that other industries have faced on their digital transformation journeys. Having a deep understanding of that and being able to set that in the context of the unique challenges we face in public transportation, requires insight and experience.
Vix has taken a very clever approach in finding the right balance between industry stalwarts, both from the operating and supplier side, technology experts, and experienced leaders across complementary industries. This expertise is now driving innovation and transformation, internally and for our customers. One of our value statements is "Do Great Things Together" and there is a real buzz within our region and globally about the things we are doing and what we have planned, that will make a meaningful contribution to better public transport. This is all fueled by the expertise and passion of our people.
What parts of our mission do you connect with?
The mission to change the world of travel is compelling. Everyone can relate to what a bad travel experience feels like. There is the experience of availability. When I was first thinking of moving out of London for a picture postcard village, I thought it must have been a local joke to dissuade city folk to say there was one bus every three hours on a Sunday. I was wrong. So were my informants. It was every four hours!
There is the experience of planning a journey, especially navigating between providers, modes of transport, or if having travel legs in different cities. Suddenly, you are registered across multiple accounts, accessing multiple web sites, and juggling between your phone and paper tickets. And if you change your plans… all have different rules, refund policies, and one break in the chain might cause the whole thing to fall apart and take hours of unpicking.
There is the experience of payment. I am still a Londoner at heart, so a recent moment of spontaneity led to an excursion with my four kids. The best fare was to pay for two of the kids as an adult and two as kids. Not exactly intuitive. But that excluded the underground. On the underground the best way to pay was when you got there. Cue then scrambling around to see if I had enough contactless bank cards to hand out to everyone at the gates. Then repeat the exercise on the way out. And this, in my view quite genuinely, is one of the finest transport systems in the world.
And of course, there is the experience of the journey itself. The wait times, the delays, the overcrowded buses, and carriages. We can do better. Encouraging people back to public transport and encouraging meaningful modal shift from cars is probably our biggest challenge in the industry. So, changing the world of travel, improving the customer experience, making it seamless, personalised, and affordable. This is a great mission.
What is Vix's biggest strength?
There is a genuine commitment to do the right thing for the customer that is part of the Vix DNA. It may sound a little cliched, but that fundamental desire to solve problems for our customers and to go above and beyond to find a way, technically, commercially, operationally, is a real strength that everyone at Vix should be proud of, and I don't think we shout enough about, internally, or externally. I don't pretend we get everything right, but the personal commitment I see in our teams every day to 'be more' is hugely motivating and in my view the base from which everything else happens.
What is your favorite thing about working in this industry?
I have been very fortunate in my career to spend most of my time working in industries that provide a public service. It was an absolute privilege to serve the healthcare industry and I have the same feeling about public transit. Public transit touches the lives of most everyone. We can improve the experience for millions of people every day in utilizing a service that is a basic need and, in my view, a basic right to be able to access. And we play our part in saving the planet at the same time. How good is that?
What is it about transit that has kept you in this industry?
Like I said, what we do really matters, and we can make a difference every day. What a privilege to be able to serve an industry where you can say that. I get to meet smart and interesting people every day and we occasionally also get the chance to play with some cool tech. Who said saving the planet couldn't be fun?
How do you see the market dynamics of our industry?
I see the industry being driven by a combination of technology shifts, operational reform and greater expectations from both passengers and the agencies and operators responsible for coordinating and delivering services.
From a technology perspective, we will continue to see demand for as a service business models, the proliferation of IOT, and the rise of predictive analytics. Digital identity management will become the norm. And emerging modes of transport will continue to disrupt and change the industry, beyond the traditional modes and beyond the traditional providers.
From an operational reform perspective, Governments, Agencies, and Operators are striving for more sustainable business models, looking for efficiencies and opportunities for new revenue streams. We will continue to see demand for better capacity management, simpler fare policies, more flexible fleets. Environmental policies will drive innovation. Areas like sustainable bus shelters, battery powered devices, and improved integration with active travel will continue to grow in demand. The growing trend for mobility hubs will continue.
Safety, as ever, will be a central focus area, but with new dimensions in the post-COVID world, to provide the confidence to return to public transport and increase ridership. And of course, passengers will continue to have increasing expectations.
The industry must deliver on the promise of cost-effective, frictionless journeys, with easy access, flexible payment options, increased equity, and better use of data to inform the passenger before, during, and after the journey.
The industry needs repeatable solutions and support from their providers to support innovation agility. Do more and do it faster. The ultimate ambition must be to support any token type, across fare-product combinations, with any payment type, on any device, providing the passenger the right information at the right time!
What are the most important goals you'd like Vix to achieve?
I want Vix to champion improved access, equity, and standards across the industry and in doing so be at the forefront of improving the passenger experience. And I want us to do that while remaining almost invisible to the passenger. If our solutions are working well, then the experience should be "it just works". I want our customers to see us as a partner and talk about us as partners and collaborators. And I want our teams to enjoy what they do every day, be proud of working at Vix in achieving those goals, the contribution they make, and see that recognized as we grow. I believe these are good to goals to have. And while it will not always be easy, better still, I do believe they are achievable.
What is your perspective on the future for the industry?
There are clearly some well documented challenges we are facing. One of the major questions to be addressed is how to encourage commuters back on to public transport and then grow those numbers, as part of a broader transformation to become more consumer centric and ultimately see the modal shift required to achieve a sustainable, eco-friendly, and practical balance between car and public transportation usage.
I think loyalty schemes are an interesting area for innovation. Rewarding passengers for more frequent travel and combining that with other areas of our lives. With the potential for increased leisure travel, as opposed to the office commute, and the potential of using data to personalize that experience, this could become a much more prevalent characteristic of public transport usage.
The increasing shift of focus from traditional modes of transport and traditional scheme agreements to new mobility service providers will drive integration and a whole range of potential commercial arrangements to better serve passengers. We will see new and innovative product bundles across transport modes and an ever-increasing blurring of traditional boundaries. Support for token types across modes of transport will grow to meet this need.
We will see the eventual elimination of the paper ticket. Contactless payments have the potential to be the model of choice in this space. The use of digitised bank cards and the potential for more widespread use of prepaid debit cards using the EMV payment infrastructure is an interesting approach. Barcode ticketing will be around for a while, but in my view, this is a sub-optimal passenger experience. Mobile ticketing is a steppingstone to broader mobile fare services. I believe ABT NFC contactless experiences will be the best long-term approach.
Flexible payment options will be another key part of improving the customer experience. Solutions that act as a mediator between the participants and support payment orchestration across funding and payment sources will be key. Those that can deliver open, interoperable platforms will be best positioned to thrive. I think we will see more regional collaboration and national initiatives.
From a Supplier perspective, the market is crowded. I think we will see an increasing number of partnerships. There will be a redrawing of the lines, with many traditional competitors becoming increasingly likely to partner together. This closer collaboration will hopefully also drive greater standards and interoperability. Ultimately, we will see consolidation of suppliers. It is a dynamic but exciting time for the industry.
What does success look like for Vix in your view?
At a top-level, we meet our growth targets, we have delighted customers and we are an employer of choice. That can sound a little coy, in that I guess every Company has those goals (or at least perhaps they should!), but it is the execution in my view that sets apart a good Company from a bad one, and the principles by which you work to achieve those goals.
Take sales and growth. I have always believed sales to be about solving customer problems in the time, at the price and in the manner that works for the customer and works for the supplier. The numbers that measure sales performance are ultimately a measure of how successful you have been at doing that. Not at making money per se. This comes back to why I see our biggest strength at Vix as having that DNA to do the right thing for the customer. It is also why I tell our teams that we are all in sales. And we are all in operations.
Whatever the role under the name, if we see a way to solve a problem, share it. It is the same principle with projects. Project Managers up and down the land might define a good project as being, on time, to scope, and on budget – or even earlier and cheaper! In truth, even when you are regularly hitting those objectives, most projects hit bumps along the way and require a level of creativity and innovation. The success of that depends on the expertise and commitment of your people and the strength of relationship you have with the customer. So again, it is how you get there that matters as much as the outcome itself.
The other thing I would say about those success measures, you see no mention of product or technology. That is a big thing for us, given our heritage, and I believe a good indication of how we are genuinely evolving. It is not that the products or technology are not important, part of the fun, or things we love and deeply care about, but simply that it is a means to an end, not an end itself. I really do think we have a great platform for success at Vix.
Talk about an accomplishment that shaped your career.
I have been very lucky to work for some great companies and some great bosses and mentors along the way. I have also been blessed to have great teams that have inspired me and helped make me look good. All have shaped my career.
I am proud of a lot of things I have achieved, but if I am going to choose an accomplishment that shaped my career, then it would be taking the decision to start my own company in my twenties. Building a company from the ground up, pursuing an opportunity I could see in a market that I didn't necessarily know a lot about at the time, but I backed myself to learn, and to which I thought I could make a difference, based on the belief (and some data) that the opportunity was very real.
It would of course be called a Startup today. I built and ran that business successfully for four years. We opened offices in the UK and in India. We built a portfolio of customer references. I learnt so much from that experience and while there have of course been other key moments in my career, I can really trace my career pathway back to that decision.
Building my own company was a deep dive into every facet of business, sales, operations, marketing, finance, HR, etc. We built products. And much of my career has been shaped around the discipline of building and maintaining products and the services built around them. Those products were used in hospitals and across community services.
So began a career supporting public services that I now proudly continue in support of public transportation with Vix.
We put our products in some of the biggest hospitals in the country. Having success showed me that anything was possible and to never be afraid of a challenge no matter how much of a stretch it might first seem. And we had failures, which we managed and grew from. And ultimately when I could take the business no further and took the decision to move on, I learned valuable lessons in making hard decisions, where I needed to develop and understood what I enjoyed and did not enjoy through the whole process, all of which influenced further decisions down the line.
A lot has happened between then and now, but it was the foundations laid then that shaped my career and what I do today.
What do you enjoy doing in your free time?
My two passions are sport and music. The former I have at least some abilities in (I will bore you silly about my FA Cup goal, it gets better every time I tell it). The latter, not so much. My ambitions to be a rock star thwarted by an inability to sing or play a musical instrument!
My meaningful playing days are over, but I still coach football at the weekends and have been doing that now for 15 years. When I had more time than I do now, it was more than a hobby. When I quit playing, I worked my way up through the FA badges and there was a time I was coaching multiple teams across a range of different levels and age groups. Now I stick to coaching my youngest son's team. It gets me out of the house.
Elsewhere, I have four kids, all boys. And all now teenagers. They pretty much take up any spare time I have! They all have inherited my passion for music. And my musical ability.
Have you ever visited another Vix office? If not, tell us which you would like to visit most.
I have visited Vix offices in the UK, but not abroad. I joined Vix at the start of 2020 and was due to fly to Perth in Australia to meet many of the team in March. I was due to meet the teams in Seattle and Denver from there. Of course, the pandemic put a stop to that – in fact the first UK lock down was announced the night before I was due to fly. I don't think anyone has been in or out of Western Australia since!
I guess that kind of itinerary feels like another world (note to self on saving the planet). But as carbon neutral as I could make it, Perth is absolutely the Vix office I would like to visit the most. Closely followed by Seattle and Denver.