Meet the Vix Americas AFC team: ICM interview with Alex Litchfield and Steven Romeo
05 October 2023,
Ahead of this month's APTA Expo conference in Orlando, Dugald Morrison, Portfolio Manager at ICM Mobility Group, interviews Alex Litchfield, VP Business Development, and Steven Romeo, Solution Architect from the Vix Americas team.
Read on to hear their thoughts on working at Vix, the success of Vix's automated fare collection solution in the North American market, and the benefits of being part of the ICM Mobility Group.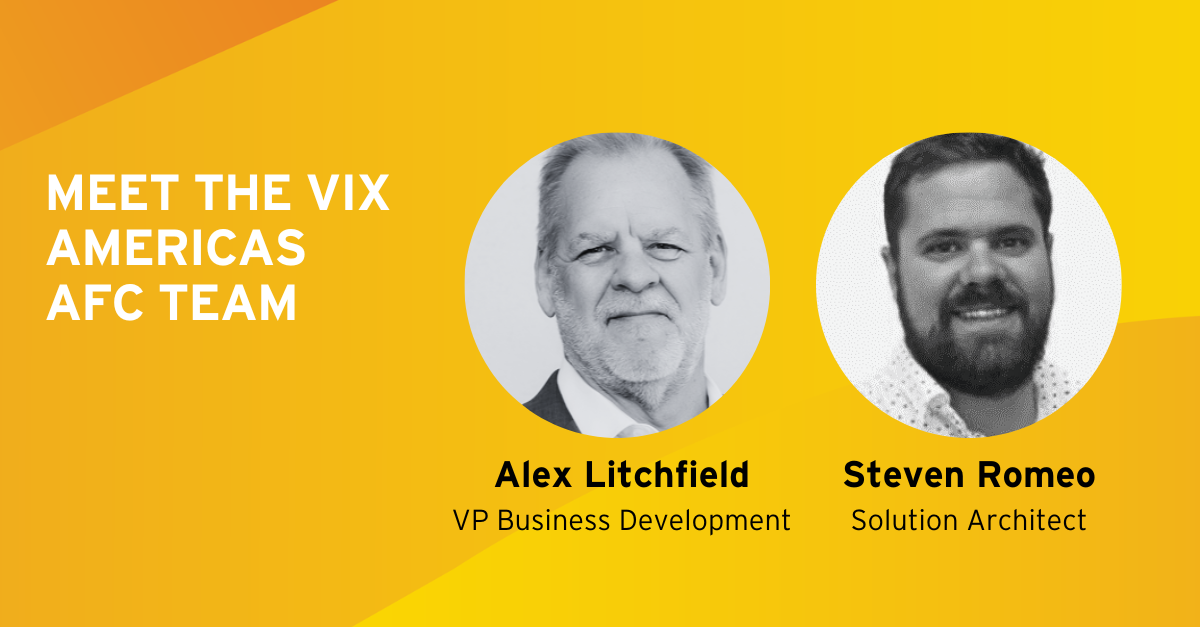 Tell me about your role at Vix.
AL: As Vice President of Business Development for Vix, my role is to support the development of new business opportunities in the Automated Fare Collection market space. Currently my responsibilities include both North and South America where I see tremendous growth opportunities for our solutions.
SR: As a Solutions Architect at Vix, my primary responsibility is to design and implement Fare Collection systems which cater to the needs of transit agencies in the North American market. This usually involves collaborating closely with our clients and internal engineering teams to ensure the systems we are producing meet the unique needs of each individual transit agency.
Alex, you recently joined the Vix team. What excites you the most about your new role?
AL: When considering joining Vix there were several things that attracted me to the position. First was the recognized brand credibility the company had in the market. Deployments in Edmonton, Dallas and Phoenix are significant references for booking future business. Next was the technology. As a firm believer in making public transit sustainable, I saw in Vix, and its solutions, the capabilities of our offering to reduce the friction associated with fare collection, improving access for transit users and achieving equitable delivery of technology for all ridership classes. I look forward to our company making these solutions more scalable so that we can provide this technology to agencies of all sizes.
What do you think makes Pulse stand out in the North American market?
AL: A lot of firms in our industry say their solutions are agnostic. At Vix, I found an organization that has delivered projects that are in revenue service demonstrating this capability. Being able to integrate with any supplier's fare collection hardware translates into greater flexibility for our transit agency partners. No longer are agencies subject to "vendor lock" where they are forced to use ticket vending machines, fare gates, validators, etc., all supplied by one company. Having flexibility in selection of the front end hardware gives agencies the freedom to choose either "Best in Class" or "Best for Us", allowing the agency to pick what elements work best for their operation, ridership characteristics, or budget.
SR: North America's Automated Fare Collection landscape is incredibly diverse. Each city has its own distinct requirements, challenges, and passenger demographics. When designing Pulse, one of our core objectives was to cater to the diverse needs of transit agencies worldwide. This led us to design Pulse with a high degree of flexibility. It can be tailored and integrated in numerous ways, allowing agencies to align it precisely with their objectives. As the transit industry progresses and agencies aim to innovate, Pulse's flexibility and interoperability ensure they're not constrained by technology but are empowered by it.
It's been two years since the last APTA Expo. How has Pulse evolved since then?
AL: The Vix team has done a great job enhancing our platform to improve security, modularity and the ability to scale down to meet the needs of smaller agencies, or scale up to meet larger ones. We can "right size" Pulse for our customers.
SR: In addition to that, we've delivered a range of new features including a solution for agencies to manage institutions such as local employers and colleges, support for an integrated call center and IVR solution, and an integrated CRM for customer management. The beauty of Pulse is that it's constantly evolving so that we can keep innovating along with our customers.
On a personal note, a highlight during this period for me was working with the City of Edmonton to deploy the Arc card solution. This project has really exemplified the capabilities of the Pulse platform with the implementation of Account Based Ticketing, Paratransit, Concessions, Reporting and Analytics and more.
Vix is part of the ICM family. What benefits does that bring to your customers?
AL: A key data point that helped me make the decision to join Vix was that the company is part of the ICM family. This relationship highlighted to me the ability of Vix to draw on a deep well of expertise from across other business units should the need arise. ICM's investment across multiple technology companies means easier partnerships with sister companies, giving us the ability to provide a joined-up offering. It also gives us more possibilities for innovation and greater flexibility in delivering the best solution to meet our clients' needs.
SR: Yeah, we already have deep experience just within the team at Vix, but that's extended even further when we look at the ICM Group more broadly. Both Vix and the ICM companies collectively have a global reach, which means we can bring that experience of what works to our customers in North America. There's also a higher level of trust and confidence that transit agencies can have in us – we've been delivering fare collection projects for over 35 years and we have the backing of ICM, so we're here to continue delivering for the long term. I should know – I've been embedded with the team at Edmonton for the last two years!
---
Dugald Morrison is the Portfolio Manager at ICM Mobility Group. Dugald is an experienced investment manager and company director, and is a member of the NZ Institute of Directors. Dugald started working with ICM Limited in 1994 in the UK, and is currently based in Wellington, New Zealand.
Vix is part of the ICM Mobility Group, which is focused on the mobility sector for private and public transport. From planning journeys and issuing smart tickets, to streamlining electronic payments and providing insights, ICM Mobility Group invests in and partners with companies shaping the digital transformation of the mobility sector. To learn more, visit www.icmmobility.com.
Vix Pulse enables agencies and operators to deliver a streamlined ticketing experience to riders, giving them access to the best value fares and the most convenient payment and token options for their journey.
Discover Vix Pulse.
Connect with the Vix team at APTA Expo.
---